Amenities
Outdoor Swimming Pool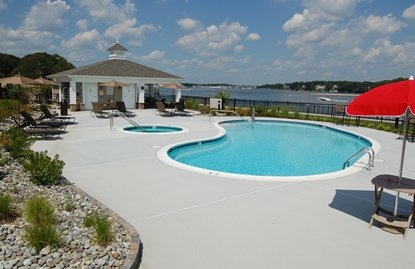 The pool will open Memorial Day weekend and will be open each weekend until June 16 and daily thereafter through Labor Day.
HOURS OF OPERATION

10:00 AM- 1:00 PM - NO LIFE GUARD ON DUTY
( Swim at your own risk )

1:00 PM - 8:00 PM - LIFE GUARD ON DUTY
( Supervised swimming)


RULES WITHIN THE POOL AREA

1. Only residents and those guests accompanied by a resident may use the pool or spa. Valid pool passes are required for entry.
2. Malfunctions in the pool or spa equipment must be reported immediately to the lifeguard or management office. NEVER tamper with the pool area.
3. Diving, jumping, running or horseplay is prohibited.
4. Bathing suits are the only approved attire in the pool and spa.
5. No water toys or floatation de vices are permitted with the exception of safety bands/vests for children.
6. Only pool approved diapers may be used.
7. Glass containers are not permitted in the pool area.
8. Pool area furniture may not be reserved for residents or guests.
9. Pool umbrellas must be returned to the closed position after use.
10. Smoking is not permitted in or around the pool area.
11. No animals are permitted within the pool area.
12. Residents are responsible for cleaning up after themselves and guests.
13. Residents or guests creating a disturbance will be asked to leave.







Important Information
Location: Between buildings 2 and 3.
Hours: 10:00 AM - 8:00 PM
Opens: Memorial Day Weekend
Closes: Labor Day Weekend
Phone: 732-202-6610